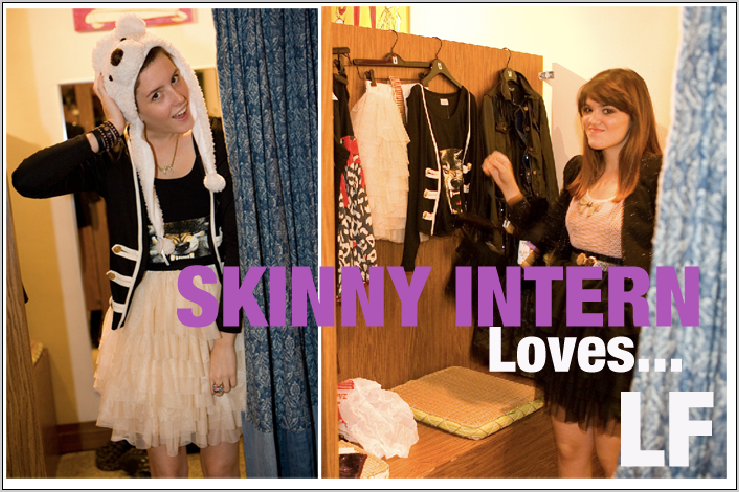 I just discovered my new favorite store. I already knew about
LF
, but it wasn't until Thursday night when I got the true
LF
experience .  Tis the season for cheer,  so LF threw a holiday bash and invited Skinny Intern for some holiday fun. Let me just start by saying that this is not your everyday retail store. Its more like stepping into your best friend's closet and turning it into a shopping experience, that is if your best friend happens to be
Jeffrey Campbell
. Everyone who works there was super cool and they were all really eager to get me looking like an LF girl. 
"When we put the clothes back we don't even try to fold them or put them away too neatly because we really want it too look and feel like some fabulous closet."
Before I knew it I was in the dressing room trying on some of the coolest items in the store. All the employees are really on top of their game when it comes to the latest in trends. They dressed me in some really incredible outfits and everything that they had me try on I fell in love with, even this really cute polar bear hat. I could hardly resist, the amount of self-control that I had to have was almost unbearable. I wanted to take it all home! My favorite look was the tulle cream colored skirt with the cropped wolf t-shirt, so cute! I love mixing girly with edgy and this is the perfect place to find stuff like that. Needless to say, I left with a smile on my face and I can't wait to go back. You can go to any
LF
store to get your very own stylist experience. Just come in and shop around and anyone there will help deck you out in the most fabulous finds of the season. You can even make an appointment so that you know you are guaranteed that one on one time.