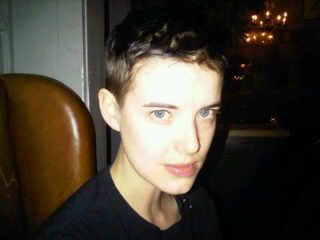 You all know my love for aggy, so blogging about aggy's updated hair is a must.
Finally she got rid of the bowl cut (THANK YOU!!) and cut it real super short again. From what I can tell it looks amazing, of coarse. The other day I saw that Aggy had
tweeted
that she was shedding the darkness. I only figured that she was talking about dying her hair back blonde, but no this is even better! Can't wait to see a bigger picture. This is all that there is for now.